You have likely been to this site a lot of times without ever seeing a movie review. The Jackie Robinson, Branch Rickey story is a piece of history well deserved of our understanding. I am pretty sure this movie gave a reasonable picture of it. It definitely was a good movie; and enjoyable viewing for us.
The contrast between the positive accomplishments of Jackie and Branch and those of the current screaming, violent crops of people whose only accomplishments in life so far is to riot for those who have dark skin is quite stark. This, you low-lifes, is how progress is made.
Movie reviewing website
Rotten Tomatoes
audience gave it an 85%. I clipped the below from there.
– Ted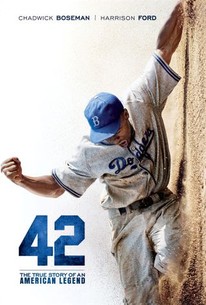 MOVIE INFO
Text expanded.
Hero is a word we hear often in sports, but heroism is not always about achievements on the field of play. "42" tells the story of two men-the great Jackie Robinson and legendary Brooklyn Dodgers GM Branch Rickey-whose brave stand against prejudice forever changed the world by changing the game of baseball. In 1946, Branch Rickey (Harrison Ford) put himself at the forefront of history when he signed Jackie Robinson (Chadwick Boseman) to the team, breaking Major League Baseball's infamous color line. But the deal also put both Robinson and Rickey in the firing line of the public, the press and even other players. Facing unabashed racism from every side, Robinson was forced to demonstrate tremendous courage and restraint by not reacting in kind, knowing that any incident could destroy his and Rickey's hopes. Instead, Number 42 let his talent on the field do the talking-ultimately winning over fans and his teammates, silencing his critics, and paving the way for others to follow. (c) WB